DeFi
From The Minds Of Forex Shark, Animal Farm Launches $AFP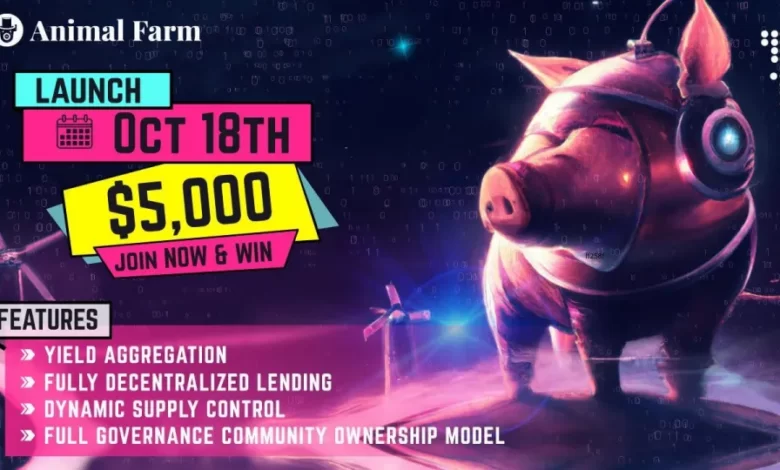 This October 18th, Animal Farm, the first and only decentralized ownership lending and yield aggregating protocol in the Defi sector, is planning to debut completely. It is the next initiative from the development team behind Drip Network, 2021's highest-performing Defi platform. However, before the platform launches, users can purchase ($AFP) their governance token on BSC during a presale, providing those who do so a significant advantage.
Features Yield Aggregation Fully Decentralized Lending Dynamic Supply Control Full Governance Community Ownership Model
The development team recognized the necessity for and market viability for yet another disruptive initiative in the form of Animal Farm due to the widespread success of Drip Network. The group started working on this project after realizing there was a need for high-quality, trustworthy, decentralized yield aggregation and lending models in the cryptocurrency sector, as well as rising demand for liquidity providers in the decentralized market.
Animal Farm is entering the market to give consumers a transparent platform to contribute to decentralized liquidity pools easily and lend money to top decentralized exchanges to generate a return and earn low-risk passive income flow. The official Animal Farm governance token ($AFP), the first of its type, enables holders to establish ownership of the platform and receive a report of all fees and taxes related to its products. Additionally, it provides ($AFP) stakeholders ownership of the medium through a governance voting methodology that lets stakeholders cast ballots on issues affecting the platform's long-term roadmap.
In contrast to its rivals, Animal Farm stands out for many reasons, and the first is its decentralized lending system that doesn't rely on algorithmic stable coins or high-risk exposure. Based on the current demand for the assets, the decentralized Dynamic Supply Control Algorithm on Animal Farm modifies the supply of native platform tokens within a reasonable range, avoiding blindly releasing rewards. In times of low demand, this supply control ruthlessly reduces the collection, even allowing the native tokens to experience deflation. Additionally, it is the only yield aggregation platform that will enable users to receive BUSD and BNB dividends without ever having to sell Animal Farm's native tokens, as opposed to other yield-generating platforms that require you to sell the platform tokens to make a profit, which causes their value to drop quickly.
Animal Farm accomplishes this by taking a portion of all collateral on the platform, using a low-risk, fully trustless lending model, to lend this collateral to Pancake Swap, the top decentralized exchange, and earning an additional 40% yield annually that is paid out to governance token ($AFP) holders in BUSD, a stablecoin backed by Binance that maintains a constant value of USD.
A novel vesting approach that uses a variable tax model to build an incentive structure that rewards users who secure profit over selling the platform's native tokens instead of locking users' native tokens instead generate additional cash flows. The platform's decentralized treasury for this incentive model already has tens of millions of dollars worth of BUSD and BNB dividends available to pay out dividends on the October 18th launch.
The goal of Animal Farm is to use decentralized protocols that are not constrained by the gatekeeping of centralized institutions to make traditional financial tools, which are generally exclusively accessible to the highly affluent, available to everyone. All of our solutions use trustless models, which fully enable customers to take control of their financial lives. Animal Farm's primary business is loan and yield aggregation, but unlike other platforms, it is the only one that genuinely supports decentralized ownership.
This implies that through our cutting-edge governance ownership structure, which pays out dividends in both BUSD and BNB, taxes and fees that would traditionally go to administrators instead go to you, the platform's users. This offers an extraordinary chance for our customers to make money as the affluent do by building up ownership of assets and generating income from them through dividends.
"Our goal at Animal Farm is to give back to our passionate community, with the hope that through our decentralized protocols, everyone will have access to the traditional financial tools that are generally only available to the wealthy. We are the first decentralized platform of our sort, giving back taxes that would traditionally go to administrators – being reverted into our users' hands. Our main focus is lending and yield aggregation. We take pride in that our customers may receive a large dividend in BUSD and BNB without selling their original assets since we are constantly looking for methods to give back to our users. Our loyalty model, which considers how users use their reward tokens and gives them a variable commission on transactions based on their loyalty score, ultimately redirects cash flows to users, is something else we are delighted to introduce. We are confident that investors will receive a positive return on their $AFP token purchases. We are eager to start this journey and cannot wait to reveal our exciting plans to our caring community!" X, the CEO of Animal Farm, said.
Animal Farm is running a campaign in anticipation of its formal debut in October, offering participants the chance to win $5,000. Users can track their progress to increase their chances of winning by doing a series of manageable tasks (such as following social media pages, liking tweets, etc.) on the Animal Farm landing page.
About Animal Farm
Animal Farm is poised to become a leader in the Defi industry with its cutting-edge incentive structure, ground-breaking supply control mechanism, comprehensive roadmap, attractive referral program, elegant user interface, and innovative yield-generating system that operates in all market conditions. Its native tokens are also created to be the highest-performing yield-generating assets ever made.