Exchanges
Best Application For Cryptocurrency In Canada 2022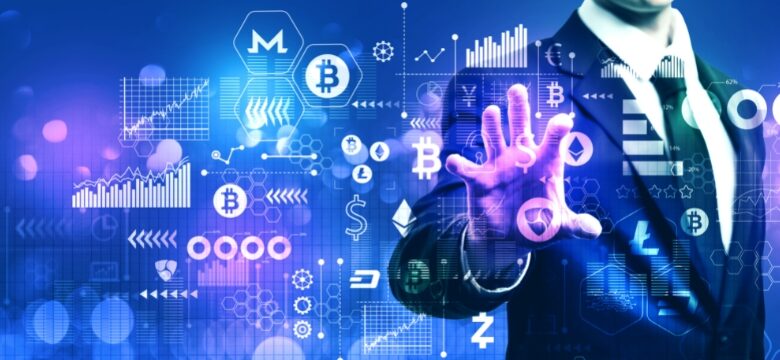 For traders in Canada, many cryptocurrency exchanges are available, the majority of which can be accessed via a desktop browser. Mobile apps are becoming increasingly common because many cryptocurrency investors prefer the simplicity of trading while on the go.
Popular cryptocurrency exchanges include a mobile version of their platform, but it might not have all the most excellent features. To assist you in selecting the top cryptocurrency app in Canada, we have compiled a comprehensive list. Let's look more closely!
What Is A Cryptocurrency App?
Mobile applications called cryptocurrency apps let users buy, sell, and store virtual currencies. Thanks to cryptocurrency apps, Canadian customers may access their funds on the move while staying up to date with the latest market news, pricing, and trends.
What Are Crypto Exchanges?
Users can purchase, sell, and trade crypto assets on a platform known as a crypto exchange. The best cryptocurrency trading platforms support hundreds of different cryptocurrencies and let you exchange them for fiat money or other digital assets (USD, CAD, EUR). Nowadays, most cryptocurrency exchanges are governed and bound by local legal requirements.
The most common way to access a crypto trading platform is through a web browser, although many now provide mobile apps for iOS and Android smartphones. Users of these cryptocurrency apps may frequently access the same features as those found in the desktop version, including keeping track of their portfolios, examining real-time pricing, and even setting up automated transactions.
Bitbuy
One of the top cryptocurrency exchanges in Canada is Bitbuy, whose mobile app has many functions. It is well known for its intuitive user interface, robust security features, and top-notch customer support. It is also the first regulated cryptocurrency exchange in Canada.
Bitbuy is a reputable cryptocurrency exchange with some legal bodies supporting it. It is the first cryptocurrency exchange to receive approval from the Canadian Securities Administrators and the Ontario Securities Commission (OSC). Additionally, it is listed as a Money Services Business with the Financial Transactions and Reports Analysis Centre of Canada (FINTRAC) (MSB).
Access to a good selection of well-known crypto assets, including BTC, ETH, USDC, ADA, and SOL, is provided by this reliable exchange. It offers consumers additional security by storing 90% of their digital assets in cold storage.
Bitbuy strives to complete openness. Thus there are no hidden fees, although charging higher trading fees (both buy and sell) of 0% to 1.5%. You may use free deposits on wire transfers, cryptocurrencies, and Interac e-transfers.
Binance
Nearly all cryptocurrencies are available on Binance, a well-known cryptocurrency exchange worldwide. Advanced traders will like the variety of trading choices it offers, including futures trading, margin trading, and peer-to-peer trading. A cryptocurrency app is a great option for mobile crypto trades because it has excellent ratings on both iOS and Android.
Given that Binance is one of the world's biggest cryptocurrency trading platforms, it should be no surprise that Canadian cryptocurrency investors choose it. You may do more than buy and sell cryptocurrency on this exchange. The online software and the mobile app support spot trading, margin trading, P2P trading, and even futures trading.
Trading fees on the cryptocurrency exchange vary depending on some variables. However, the platform offers a tiered fee structure for your reference. Regular customers can benefit from cheap trading fees for spot trading, which is set at 0.10%.
Additionally, Binance accepts many payment methods, like wire transfers, bank transfers, and credit cards. However, the platform's refusal to let Canadian cryptocurrency traders deposit Canadian dollars is one drawback. It supports several fiat currencies, including USD, EUR, AUD, and HKD.
Coinsmart
Another trustworthy cryptocurrency exchange in Canada that is mobile-friendly is Coinsmart. It makes up for what it lacks in bitcoin offers with convenience and quickness. The primary account verification function on this cryptocurrency trading platform is excellent for those who wish to start investing in cryptocurrencies quickly.
Even though Coinsmart only provides 16 digital assets, they are one of the many Canadian exchanges that are FINTRAC and OSC registered. Because it offers rapid verification, this cryptocurrency software is perfect for new users who want to start trading cryptocurrencies immediately. The same day that you deposit money, you have access to it.
Contrary to other services, Coinsmart has transparent fees. For a single trade, the transaction fees are 0.20%, and for a double trade, they are 0.30%. Additionally, there is a 1% withdrawal fee for EFT, bank wire, and Interac e-transfer. It should be noted that processing time for fiat withdrawals ranges typically from 1 to 5 business days.
With a two-factor authentication procedure for account safety and 80% of users' cryptocurrency deposits kept in cold storage wallets, the Coinsmart platform is incredibly secure. It upholds KYC verification, which the OSC stipulates as a condition of compliance. Users can contact Coinsmart's 24/7 customer service by phone, email, or live chat if they have any questions.
Wealthsimple
A mobile-first cryptocurrency trading platform in Canada is called Wealthsimple Crypto. It is a division of Wealthsimple, one of the biggest domestic online investment platforms. The software makes it simple to purchase, sell, and keep cryptocurrencies like Bitcoin, Ethereum, Litecoin, and more on your phone or tablet.
The most incredible thing about this app is its easy use; for just $1, users may start using it and receive access to functions like fast deposits via Interac e-transfer or bill payment from their bank account. You don't have to go through a laborious KYC procedure to access the site, which is different from most other exchanges.
Another unique feature of Wealthsimple Crypto is that it provides transparent trading fees without additional fees or commissions. There are no deposit or withdrawal fees, and there is a trading fee of 1.5% to 2% when buying and selling cryptocurrencies.
Coinbase
The US-based cryptocurrency exchange Coinbase is accessible in Canada. It has a solid track record for security and is one of the oldest and most dependable exchanges. Numerous cryptocurrencies are supported by Coinbase, which also provides features like recurring purchases and fast transactions.
The services offered by Coinbase are suited for both novice and experienced traders. While Coinbase Pro offers more sophisticated trading features like limit orders and leverage trading, the standard platform maintains trading basic. For iOS and Android users, Coinbase also has a mobile version that is great for trades while on the go.
Users can earn up to 5.75% APY on their cryptocurrency holdings, a respectable rate for the platform's earning potential and staking services. For individuals who are interested in learning more about cryptocurrency trading, there are also teaching prizes accessible.
The crypto app offers FDIC insurance on USD funds, despite not supporting fiat deposits in CAD. Two-factor authentication and a safe vault to safeguard your cryptocurrency assets are some of its additional security measures.
Kraken
Kraken, which also provides 185+ additional crypto assets, is arguably the most excellent cryptocurrency trading platform in Canada for trading Bitcoin. Due to its minimal trading fees, many have regarded it as the most affordable crypto exchange. This Canadian cryptocurrency service, like Coinbase, provides platforms for novice and experienced traders.
Kraken's trading fees range from 0% to 0.26% for each deal and are considered reasonable. The software offers access to advanced features, including margin trading, spot trading, over-the-counter (OTC) services, futures contracts for crypto assets, and staking possibilities, but trading has been streamlined to cater to newcomers.
Users of Kraken can fund their accounts in some ways, including with debit/credit cards, bank wire transfers, and Interac e-Transfers. Additionally, well-known for its first-rate customer care, it offers live chat help around the clock. Kraken offers users extra security precautions like two-factor authentication (2FA) and cold storage and is registered with FINTRAC as an MSB.
NDAX
Despite being a relative newcomer to the crypto world, NDAX has already established itself as one of Canada's top cryptocurrency exchanges. Access to some well-known digital assets, such as Bitcoin, Ethereum, Litecoin, Ripple, Dash, and more, is made possible through this licensed trading platform. Additionally, it offers great chances for staking and referral income.
The mobile app for NDAX provides an easy-to-use user interface that makes buying and selling cryptocurrency simple. To evaluate price changes over time, the program features sophisticated charting options.
One of the best methods to generate passive income is by staking, which is made simple with the NDAX app. Without any fuss, you may quickly bet your preferred crypto assets while on the go. Additionally, you can receive a commission from recommendations and get paid up to $1,000 for each.
Coinberry
The most excellent cryptocurrency exchange in Canada regarding security and rules is Coinberry. In addition to having received regulatory approval, this Canadian cryptocurrency trading site is also run by Gemini, one of North America's most trustworthy and safe cryptocurrency exchanges.
The Personal Information Protection and Electronic Documents Act is fully complied with by Coinberry, registered with both OSC and FINTRAC (PIPEDA). In addition, the crypto platform has a robust security system that incorporates encryption, multi-factor authentication, and secure cold storage.
Coinberry accepts bank transfers and Interac electronic transfers for CAD deposits. Meanwhile, you can purchase cryptocurrencies directly from Coinberry's website using credit cards. The free withdrawals and warranties, including crypto deposits, make up for Coinberry's 2.5% spread.
Newton
Newton's Canadian cryptocurrency exchange is renowned for providing alternative coins not seen on other exchanges. In Canada, it also advertises itself as a no-fee exchange. Despite being entirely new, Newton has cemented its position as one of the top cryptocurrency programs.
This Canadian cryptocurrency exchange provides access to over 70 cryptocurrencies, including uncommon altcoins like UMA and Hedera. Instead of charging a commission on trades, it demands a commission on spreads. The good news is that deposits and withdrawals in fiat and cryptocurrency are free of further charges. In addition to offering free cryptocurrency withdrawals, the cryptocurrency exchange also pays up to $5 in mining expenses.
Because it is aesthetically beautiful and simple to use, Newton is one of the most suggested cryptocurrency apps in Canada for novices. The support team provides prompt customer care, and the user interface is simple.
Crypto.com
Our choice for the best cryptocurrency exchange for supported fiat currencies is Crypto.com, one of the largest crypto trading platforms in the world. Many functions and services are available, including crypto trading, staking, payment cards, etc.
Both iOS and Android mobile devices can download the Crypto.com mobile app. With a few touches on the screen, customers can easily buy and trade cryptocurrency using their credit or debit cards. The app is also appropriate for Canadian traders because it supports more than 20 different fiat currencies from around the world.
Comparatively speaking, Crypto.com charges low costs, ranging from 0% to 0.4% for makers and 0.16 to 0.10% for takers, depending on your 30-day trading volume (the higher the book, the lower the fee). While deposits are free, cryptocurrency withdrawal costs can vary.
The best cryptocurrency app in Canada is the one that caters to your demands and offers the features you need. While we've done our best to summarize what each platform offers, the choice of which app is ideal for you ultimately rests with you. Due to its security features, usability, and excellent customer service, Bitbuy is our top choice for the best cryptocurrency exchange in Canada.