NFT
8 Best NFT Games To Play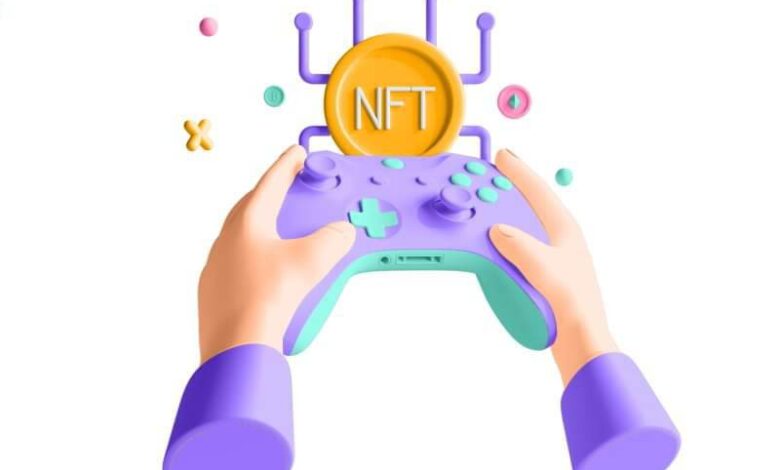 In 2022, NFT games will become more and more popular. In the beginning, non-fungible tokens (NFTs) were digital assets recorded on the blockchain that could track ownership of an asset wherever it went and offer to sell some of it to prior owners. Recently, their use case has swept the gaming industry. The three billion gamers worldwide are innately drawn to collecting rare items, hunting down unique artwork, and collecting collectibles. 
It could be difficult to market complex NFT game products with poor user experience design. Players might be more receptive to NFTs if they are well-implemented and offer substantial value. This article examines a list of the top NFT games currently available. 
The NFT games listed below have dominated the blockchain industry this year. By incorporating social and P2E dynamics, these games modernize traditional gameplay and capture the attention of gamers who are not into crypto games. 
RobotEra – Rated The Best Upcoming NFT Game of 2022 – Token Sale Started Nov 2022

Calvaria – Best New Trading Card NFT Game also on Presale Now
Tamadoge – Best Tamagotchi-Influenced NFT Game of This Year
Battle Infinity – Best Metaverse-Based NFT Game in the Fantasy Sports Niche
Axie Infinity – Allowing Players to Buy Axies NFTs and Put them To Battle
CryptoKitties – One of the Earliest NFT Games
Decentraland – One of the Biggest Metaverse NFT Projects
The Sandbox – NFT Game Featuring Land Ownership and Brand Support
2022's Best NFT Games To Play  
The top NFT games that are worth investing in right away before they go viral are listed below by our evaluation team of players, investors, and traders: 
RobotEra
RobotEra by GameFi, an LBank Labs project focused on restoring the planet TARO, is intriguing since it extensively uses blockchain-based monetization techniques. They achieve this by building and modifying NFT robot companions, purchasing Metaverse land plots, and eventually populating those areas with residences and other buildings. 
Players can keep their enhanced and personalized robot NFTs for usage in-game or exchange them for different products available on the market. Users of RobotEra can create anything they can imagine on the available ground by using the in-game editor to alter the world in any way they like. Players can make money off their creations in some ways, such as by charging admission to events like concerts and museums or renting out advertising space on billboards. 
RobotEra's developers believe that when players take ownership of the game environment, new applications will emerge, users will be able to mine resources from Metaverse territory in return for TARO, and players will have control over their continents. It is possible to stake TARO tokens for monetary benefit, which are also used in the organization's voting and governance processes (DAO). Therefore, investing in this coin could result in a tremendous metaverse initiative. 
During the Presale, one TARO token presently costs $0.002. In the third phase, token prices will increase from $0.0025 to $0.0032. Throughout the three presale phases, 90 million tokens will be made available for purchase, totaling 270 million. 
Calvaria
RIA, the money used by Calvaria, is one of the best crypto-gaming currencies in the world of blockchain gaming platforms inspired by the Metaverse. Entry into the game requires gathering NFTs, which in Calvaria represent playable characters. 
Players join forces to form teams in these NFTs, and each member builds a deck that the team can utilize. Battle winners on Calvaria are rewarded with RIA tokens. 
RIA is required to make an NFT purchase in the Calvaria in-app market. Due to the asset's status as a proof-of-stake (PoS) currency, its value rises. 
Holders of RIA are given the ability to vote in elections held by the independent, decentralized organization Calvaria, as well as the chance to grow their RIA holdings (DAO). 
By staking RIA tokens, token owners can participate in the game's operation through the autonomous decentralized organization (DAO). To list the product as soon as the Presale is over, Calvaria's creators have partnered with MEXC and LBank, two of the market's newest centralized exchanges. 
Because it is under Presale, you can purchase RIA for a meager price. Since the asset's Presale started just over a month ago, more than $1.5 million has been raised. Ten phases make up RIA's Presale, during which the token will be made available to investors in small amounts. For those searching for the cheapest NFTs, purchasing RIA at the Presale will let you do so at a discount, making it a wise investment. 
The RIA initial coin offering (ICO) price was $0.010, while the anticipated cost of the tenth and final stage IPO is $0.055. The first investors could receive a return on their investment of more than 400%. Since the asset is currently in the fourth round of its Presale and sells for $0.025, investors still need to profit from RIA. 
Tamadoge
The native cryptocurrency of the peer-to-peer (P2P) Tamaverse, where users can use tradable NFTs and TAMA to monetize their gaming activity, is the Tamadoge Token. Tamadoge, one of the most well-known cryptocurrency game coins, has excellent meme coin aesthetics. Using it, you can buy Tamadoge pets like canine-like avatars. The top finishers receive TAMA as a result of using these pets in tournaments that are conducted all across the city. 
One billion TAMA coins were made available during the Presale out of a total supply of 2 billion. Thanks to the $19 million it raised over a successful 8-week presale period, Tamadoge will rank among the most prosperous cryptocurrency ventures in 2022. 
Since the Tamadoge organization is committed to constant development, they plan to launch many more P2E ecosystems in the upcoming years. The platform intends to publish a Tamadoge augmented reality app in 2023 that will have all of the P2E capabilities of the website. A P2E arcade game with real-world Tamadoge swag for top players will also be released by Tamadoge in 2023, making it one of the best NFT projects to be released this year. 
Tamadoge can now be purchased on the decentralized OKX exchange without registering for an account. With its rapid growth in 2022 and more exposure from other exchange listings, Tamadoge might become one of the most liquid cryptocurrencies available. 
One Token cost $0.0234, a decrease of 2.90% over the previous 24 hours. On markets like MEXC, OKX, BitGet, BitMart, and XT.COM, it is accessible. 
Battle Infinity
Battle Infinity (IBAT) is a decentralized platform that allows gamers to earn money through the video game industry.
All P2E operations on Battle Infinity are managed using the platform's coin, IBAT.  The IBAT Premier League is a National Fantasy Sports league where members can earn GameFi possibilities. 
Given that it allows users to stake money, Battle Infinity is a fantastic alternative to the popular produce-farming cryptocurrency sites. 
Battle Infinity, a well-known cryptocurrency with its Metaverse, contains the Battle Arena. Both persons and in-game assets may be created as NFTs in this virtual world by using the innovative contract features of the game. The Battle Market is the hub for NFT commerce and leveling in the game world. 
IBAT was able to finish its 90-day Presale in just three weeks thanks to the flexibility of its online crypto gaming platform. IBAT was finally made accessible to the general public following its initial token listing on LBank, the most well-known centralized exchange (CEX). IBAT has quickly become one of the most talked about digital currencies of the year due to a successful presale and subsequent spike in token listings. 
One Battle Infinity coin is worth $0.00236 after dropping by 5.17% over the last day. These are just a handful of the exchanges where you may purchase this cryptocurrency: PancakeSwap (V2), LBank, and MEXC. 
Axie Infinity
The video game Axie Infinity, which runs on Ethereum, was released in 2018. Many design choices in the game are borrowed from the Pokémon series, but blockchain technology makes the whole thing more interesting. 
Breeding and collecting NFT animals known as Axies is the aim of Axie Infinity. Players' primary objective in the game is to compete against other players Axies. The game's native currency, Smooth Love Potion (SLP), is a genuine cryptocurrency that can be acquired through gaming. Progeny of an Axie NFT exhibit the traits and qualities of the parent. 
Axies can also be purchased and sold on NFT exchanges, with the price depending on things like scarcity and essential qualities. Though before starting Axie Infinity, gamers must purchase three Axies. To win rewards in the NFT game, players stake the governance token Axie Infinity Shards (AXS). 
Those who want to refrain from participating in Axie Infinity's game-based revenue streams can still learn about the project by purchasing AXS tokens. Major cryptocurrency exchanges like eToro offer easy debit card or credit card purchases for the AXS token. 
Axie Infinity's price is now $7.16, an increase of 1.32% over the previous day. You can purchase this coin on BTCEX, OKX, Binance, CoinW, and MEXC, among other exchanges. 
CryptoKitties
One of the first P2E games in this market was CryptoKitties, which debuted in late 2017. In CryptoKitties, you can breed your digital kittens. In keeping with other play-to-win games, each kitten in CryptoKitties is unique and is represented by an NFT token. 
Based on the characteristics of your CryptoKitties, you might be the owner of a rare NFT that you can sell on the open market. 
One Token is currently worth $80, down 0.44 percent from the previous day. If you're interested in investing, you can trade CryptoKitties on Uniswap (V2) and Uniswap (V3). 
Decentraland
A 3D platform called Decentraland makes creating, distributing and monetizing one's virtual reality content simple. 
People from all artistic backgrounds can come together on the internet to exchange ideas and find assistance. 
MANA tokens are based on the MANA blockchain and are intrinsic to the Decentraland ecosystem. All financial transactions on the website must be made using this virtual currency. 
Examples of such transactions include buying land, having a say in land related policy choices, and benefiting from tax breaks and other financial advantages.
Decentraland is a leading example of a blockchain-powered video game project. Holders of MANA control the platform and have access to features like property auctions and content censorship.
Players interested in the Decentraland Metaverse virtual reality platform have attended some conferences there. A cryptocurrency like MANA, explicitly created for video games, will appreciate if more people start utilizing it. 
The price of the cryptocurrency, which is presently $0.41 and has decreased 3.03% over the last day, is currently listed on major exchanges, including BTCEX, Bitrue, Binance, CoinW, Deepcoin, and more. 
The Sandbox
The Sandbox, a virtual environment powered by blockchain launched in 2011, allows users to develop and trade digital goods. The Sandbox allows a vibrant gaming community in a distributed context by utilizing decentralized autonomous organizations (DAOs) and non-fungible currency (NFTs). 
The Sandbox platform's primary goal is to successfully incorporate blockchain technology into the world of commercial gaming. This platform's primary goal is to make it possible for content development to follow a play-to-earn paradigm, allowing users to produce and play simultaneously. 
Based on blockchain technology, the Sand native coin (SAND) permits trade within the Sandbox. The Sandbox is one of the first platforms of its sort to bring blockchain technology to the gaming industry. 
In 2011, Pixowl began to think about blockchain technology and saw a big, unexplored market in the gaming industry. The Sandbox offers a location where players may produce and assemble blockchain-based assets to make waves in the industry. By doing this, it was able to carve out a specific place in the international gaming market. 
The Sandbox encourages users to create original content, which draws a thriving Metaverse of creators. Users can remark on the progress of initiatives in the Sandbox using the SAND currency, which also encourages decentralized management. As blockchain technology develops, decentralized governance has become essential for all enterprises. 
Significant figures in the video gaming industry offered the company much public and financial support from the outset. Industry behemoths like Atari, Helix, and CryptoKitties are among them. 
The price dropped from $0.58 the day before by 0.84%. This currency may be used to buy coins on some exchanges, including MEXC, Binance, OKX, CoinW, and others. 
What Are NFT Games Exactly?
Old-school games and NFT games are identical. In past games, completing levels or eliminating foes would result in the player earning a reward. Players receive prizes, but these cannot be redeemed outside of the game. 
Participants in NFT and crypto games can cash out their earnings in bitcoin or move them to another game, unlike players in traditional video games. 
Right now, in-game stuff is available to every gamer. Previously, obtaining certain items required a large sum of money or gaming expertise. Only one player at a time may hold an NFT. 
The validity of an item might be confirmed using the blockchain technology that powers NFTs in video games. And this serves as the basis for the design of NFT video games. Users can make money in-game by buying, selling, and trading unique items. 
Incentives may include money in addition to bragging rights at this point. For instance, you should wear the same armor as your preferred video game character. This security is only available if you buy the game. 
Sure, you could get a copy, but that would mean it wasn't real, and its worth would be lower. The value of these NFTs components is predicated on the notion that someone will be willing to pay for them. 
There are many opportunities to generate money in the blockchain and cryptocurrency industries because the global marketplaces for video games, cryptocurrencies, and blockchain-based games are expanding quickly. NFT games are a ground-breaking and powerful marketing tool. 
Together, they draw in more players and resources for the game. The quantity of regular players determines a game's worth. NFT options raise the value of a match by luring additional participants with more exciting alternatives. 
What Are The Different Types Of NFT Games?
You should be able to locate an NFT game that suits your demands since there are many available. 
Examples of popular play-to-earn game categories include:
Battle NFT Games 
These games are enormously popular among NFT gamers. This suggests that you frequently compete against other players to earn game tokens. You will need to increase your in-battle strength and prowess if you want to succeed in this particular NFT style of game. By doing this, you'll have the best chance of accumulating a significant amount of virtual currency. 
Card NFT Games 
The NFT card games are strikingly similar to the original Pokémon card games. There are many different playable figures in this deck of cards, and each has advantages and drawbacks of its own. Using cards with the highest attributes is the best way to win NFT games since it gives you the best chance of defeating other players and receiving rewards. 
Land Possession NFT Games 
The best NFT games frequently place a strong emphasis on land ownership. That suggests you possess virtual land holdings within the game, each of which would have a distinct NFT to reflect it. You can also develop structures on your land in the majority of P2E games, which can increase their value. The greatest metaverse cryptos that can support the in-game economy by connecting it to real-world gains power these games. 
Animal NFT Games 
Animal NFT Games include CryptoKitties, where users may create custom digital kittens in return for bitcoin and Tamadoge. This Tamagotchi-inspired title lets users train and competes with their virtual pets for rewards. More details about these games are available from the list of the best NFT games. 
Mobile NFT Games 
Apps for smartphones are available for some of the most entertaining NFT games. Since participants can be located anywhere in the world, they have the potential to be the most rewarding for creators. If one has a computer and internet access, one can do just about everything. 
Why Should You Play NFT Games Instead Of Other Online Games? 
NFT games benefit both the players and the investors. NFT games have some advantages over their more conventional competitors as a publishing platform, such as: 
The NFT game offers its players a safe environment. Thanks to its cutting-edge technology, you can rely on blockchain's dependability and safety. Transparency. The rare and NFT is, the more value it has. NFT competitions. The blockchain system raises the value of NFT by emphasizing its rarity and encouraging more transparency in online transactions. 
Because they recognize the sector's potential despite its infancy, game developers and owners are eager to secure VC funding by adopting blockchain-based gaming solutions. 
In an NFT game, a player has complete control over all items. It's a good choice because exchanging NFTs for bitcoin is feasible. Owning a tangible object might be a reliable source of income and an additional incentive to participate in blockchain-based games. 
An NFT game's developers may profit if many people download it by taking a portion of the money players paid for it on the Play Store or the App Store. The overall number of downloads affects publishers' earnings. Additional sources of income for game developers include in-game purchases, holiday and event sales, and limited-time promotions. 
Individual participants could be charged a transaction fee when buying, selling, or trading NFTs. This kind of transaction occasionally needs to include a lot of money to maintain a solid profit margin. 
Conclusion 
The greatest NFT games and play-to-earn crypto games may be used to make money while having fun, and they have a large user base. Because of the growing interest among players in NFT games, more and more studios are including cutting-edge features in their ecosystems, giving players access to real advantages. 
RobotEra is one of the most captivating younger generation's free-to-play games because of its creative combination of NFTs, play-to-earn methods, and the Metaverse. Visit the RobotEra presale website to find out how to save money as an early investment. 
The community should look at investing in some innovative new blockchain gaming efforts, like Calvaria. Now may be the most fantastic time to begin because tokens for these projects are trading at historic lows and can be purchased in bulk at significant savings. 
Another presale that you should consider investing in is Dash 2 Trade (D2T). D2T is a cryptocurrency analytics platform for traders that use various cutting-edge techniques to assist you in spotting good cryptocurrency possibilities well in advance of other investors. Also included are the native tokens used in NFT games.