Games
5 Best Cryptocurrency Adventure Games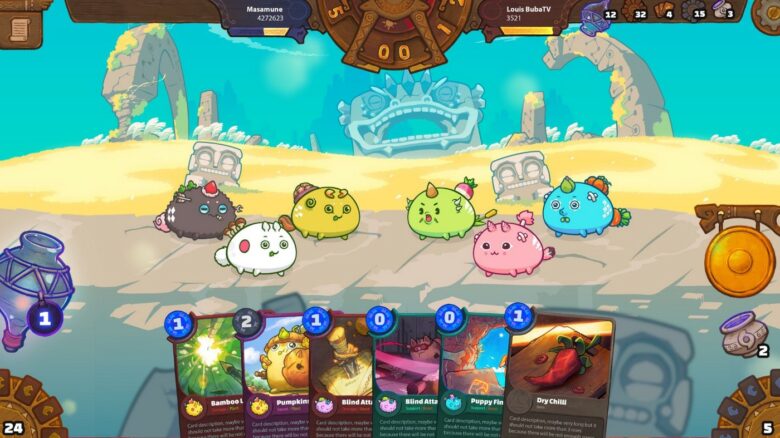 One of the most played types of video games across all platforms is the adventure game. They enable gamers to explore new worlds, fully immerse in the narrative, and go on exciting adventures. We'll examine some of the top crypto-adventure games available now. 
Adventure games have been around for more than 40 years, and titles like King's Quest helped establish the genre. These days, gamers can experience a variety of classics, including Days Gone, Red Dead Redemption 2, Life Is Strange, and The Witcher game series. 
While traditional adventure games have left a lasting impression on millions of gamers worldwide, a new trend—adventure games that use blockchain and crypto technology—has recently gained popularity. 
What Is Crypto Gaming, And What Are P2E Games?
Crypto games function in the same way as regular video games. The primary distinction between the two is that blockchain technology powers crypto games and many of these games have their token, which is frequently used as in-game currency. 
This means that players of the so-called pay-to-earn games can earn tokens. Then, players can exchange their tickets for actual money or another cryptocurrency. 
Additionally, almost all crypto-based games have non-fungible tokens (NFTs) that you can acquire by playing the game or exchanging stuff on the game's market. NFTs can take the shape of items, resources, spaceships, or animals that you can use to attack other players. 
We've compiled a short selection of some of the top adventure games you can play with cryptocurrency if you're interested in learning more about what the world of crypto gaming has to offer. 
AXIE INFINITY
Axie Infinity is Yu-Gi-Oh and Pokémon combined. One of the most well-known blockchain games allows users to purchase and breed creatures called Axies, then use their Axies to engage in combat with other players while using cards and abilities. 
To begin the game, you must use bitcoin to purchase three Axies from the market. After that, you can perform daily objectives, engage in player-versus-player combat to raise your rating, and even earn victories in battle. Additionally, you can breed your Axies and eventually sell them for cryptocurrency on the market. 
The good news is that the Axie Infinity Scholarship allows you to play Axie Infinity for free and assists you in locating managers who will lend you their Axies. Using your manager's Axies to fight other players or finish daily objectives saves you money, but it also means you must split the rewards from victories with your management. 
EGYPTIAN 
Game created the video slot machine game Egyptian. Five reels, a wild symbol, a bonus feature, and free spins are all included in the game. Even if the gameplay might not be as thrilling as in other, more complicated games, the chance to win large is sure to make you jump for joy every time the reels are spun.
In addition, the game is quite simple to learn and play, making it perfect for beginners and gamers who want to unwind after a hard day. 
It is crucial to check the honesty and fairness of the website hosting Egyptian because it is a casino game, and you will need to utilize cryptocurrencies to play it. Fortunately for you, a reliable review of a BC. Game Casino will provide you with all the information you require regarding the casino, its validity, and much more. 
Star Atlas Crypto Adventure Game
STAR ATLAS
Unreal Engine 5 was used to create the immersive space adventure game Star Atlas, set in the year 2620. Players can travel through space looking for NFT-based products, perform quests to earn in-game tokens, mine resources, and much more in this AAA-quality video game. 
Every participant in the Star Atlas metaverse can generate and exchange NFTs, allowing gamers to own their digital possessions truly. This is another fascinating feature of Star Atlas. In addition, players can participate in the microeconomy of the game and develop cities and regions. 
Star Atlas is still in early access, but its release date has been set for the end of 2022, according to the game's creators. At the same time, this suggests that the game will unquestionably improve as Star Atlas's developers continue to add new features. 
ILLUVIUM 
Collectible role-playing and the auto-battle game called Illuvium. Does that sound like a mouthful? It's okay, that. Imagine it as a game akin to RIOT's team fight Tactics or Dota Underlords. 
Players in Illivium can carry out quests and other duties across the Illivium realm. Additionally, since Illivium is a pay-to-win game, you can acquire ILV tokens by participating in gameplay or by placing bets on the results of the matches in the Leviathan arena. In this PVP arena, you can engage in player-versus-player combat. 
Additionally, you can cultivate resources or catch other creatures (Illuvials) to trade on the game's market. Every substance, beast, and thing you produce is considered an NFT. Its ownership may be established on the Ethereum blockchain, establishing the object's integrity and encouraging people to mine and trade substances and illuvials. 
BINEMON 
In the adventure-RPG hybrid Binemon, users can gather NFTs called Binemons and use them to battle other players. Each Binemon is a unique combination of ten separate pieces and endless colors. Additionally, it gives players many customization choices for building their distinctive army of Binemons. 
Players in Binemon can hatch and breed their animals, just like in Axie Infinity. Additionally, there is a little possibility that each egg you hatch or each Binemon you fuse will yield a rare body part or a stat bonus that you can utilize to fortify your existing Binemons. 
In addition, you can complete the game's narrative, ascend the Ancient Tower, take out world bosses, and do a lot more. The game also has a housing system that lets you construct, embellish, and sell your home. You may even build a castle and participate in guild wars to expand your territory. 
THE WRAP UP
Since blockchain-based video games are still a relatively new idea, many crypto-based games are still in the early access phase of development. However, this only indicates that when blockchain use increases and more game creators begin integrating cryptocurrencies and NFTs in video games, these games will only become better. 
Blockchain games offer an exciting chance to make money while playing video games without having to be a professional eSports team member, a well-known Twitch streamer, or a well-known YouTube content creator, even though traditional games are still far superior overall quality.