NFT
Nike's .Swoosh Metaverse Platform Is Finally Here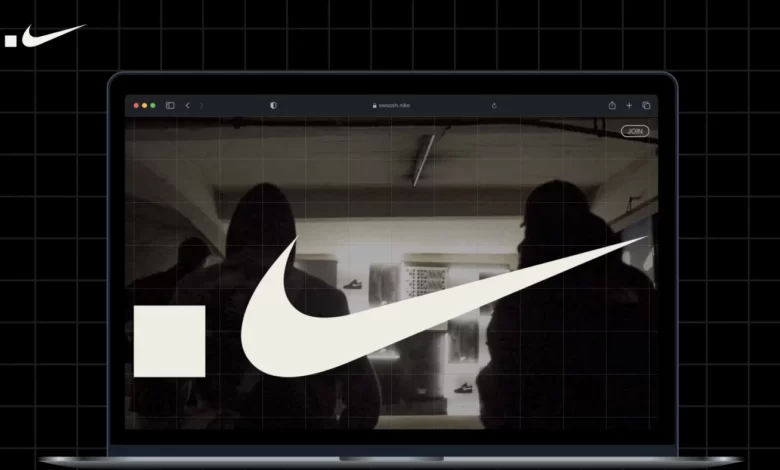 With the launch of .Swoosh, a new platform that will house the virtual footwear, clothing, and accessories for the sportswear company Nike, is going further into the metaverse. Nike plans to create a thriving web3 community called.Swoosh (pronounced "dot Swoosh"), where members will eventually be able to attend exclusive events, work with Nike designers on virtual products, and even receive royalties from selling such things.
According to Ron Faris, general manager of Nike Virtual Studios, "it will be a location where our community can come in and co-create that future with us." You can assemble, exchange, and use Nike virtual goods. Your token-gated virtual creations can accompany you to real-world events.
Faris was chosen in January 2022 to head the newly founded Nike Virtual Studios after helping to make the SNKRS app a significant contributor to Nike's digital income. The division is a distinct, business-minded branch under Nike responsible for bringing the brand to the web3, NFTs, and metaverse. The virtual product design teams at Nike Virtual Studios are made up of individuals who have experience designing physical Nike products and are professionals in pushing the boundaries of what a shoe could appear to be in a digital environment.
Nike worked with the RTFKT team, a well-known NFT company that Nike purchased in December 2021, in developing the.Swoosh logo. RTFKT, pronounced "artifact," has expanded beyond the internet world by producing authentic replicas of several of its sneakers with the Nike logo.
Faris says, "We communicate to them weekly about the best practices and how we can start to take specific learnings and widen them. We've learned a lot from our friends at RTFKT about how to do this well.
Users will require an access code to access Swoosh because it is still in an invite-only beta stage. They can access the platform on a mobile or desktop web browser; as it's not a social network or a specific app like SNKRS, you can't speak with other users there.
Nike will choose three groups to make up the initial wave of participants who will have access: its most ardent users, residents of cities that typically don't get first access to new technology, and partners from its diversity, equity, and inclusion organizations.
On Friday, users with access can claim theirs.Swoosh username by creating their domain—for this author, that would be "Brendan.swoosh." (Those without access yet can sign up for a waitlist.) These domains will serve as users' digital residences within Nike's metaverse. Since Nike controls the .swoosh field, it can access all the links there.
Nike has yet to start selling anything on the.Swoosh platform yet; according to Faris, it will do so in January when it introduces its first line of virtual goods. Users can make purchases there using a standard credit or debit card, just like they could on nike.com, and their transactions will be protected by blockchain technology. The brand is being coy about the details of its initial collection. Swoosh will test the collection's pieces' utility; some will be connected to tangible goods, while others will grant holders access to events.
Nike's metaverse strategy is essentially a mystery, with more promises for the future than concrete advantages for the here and now. The most intriguing elements are still to come.
According to Faris, Nike may eventually allow customers to place a virtual order for an actual sneaker. They were commencing in the spring. Winners of creator challenges hosted by Swoosh will work with Nike to co-create a virtual product line and share in the revenue from the line's sales. Members will have the opportunity to vote on the color schemes of virtual goods. These procedures will begin with curation. Users of Swoosh will mentor Nike designers as they advance in development and gain access to tools that will allow them to design alongside them.
According to Nike, RTFKT's Clone avatars will be able to wear its virtual releases. In the future, the company's virtual goods will be offered as wearables in video games, expanding its market. The company has already experimented with this, releasing Air Jordans for Fortnite in 2019. Nike will introduce more partners the following year, enabling a more excellent range of uses for its virtual goods.
But for now, Faris says, Nike wants to be intentional about the pace.
He continues, "We'll wait to start selling goods soon. "We genuinely want to take care and consideration when extending an invitation to the neighborhood. We will begin with a month of education, consisting of a six-city tour where we will visit specific locations to aid instruction.
Atlanta, Charlotte, Louisville, Los Angeles, New York City and Tallahassee will all stop on the Nike Virtual Studios tour in December. The company will hold Zoom classes in retailers, such as upscale boutiques and neighborhood shoe stores that sell Nike products. Nike's Medium blog and Instagram will be updated with information regarding the.Swoosh. Nike thinks that before it begins to release virtual items regularly, there needs to be a significant degree of education about the metaverse.
The company believes it can open up chances for lay people like those often reserved for Nike's most reliable partners once it has a more regular cadence around virtual product drops and once Nike Virtual Studios has built a following around them.
Swoosh may include internet stores for regular users and elite Nike athletes and collaborators.
If Nike Virtual Studios is successful, this could be Swoosh's most outstanding accomplishment. This can make the brand's resources and intellectual property available to a broader audience outside its Oregon headquarters' perimeter.
The true goal, according to Faris, is to enlarge the scope of what constitutes a creator. "Frequently, it's restricted to simply a fashion designer or designer, but we believe artists should be anyone who wants to share their ideas or their perspective."