NFT
Asset Backed "Just Gems NFT" Launches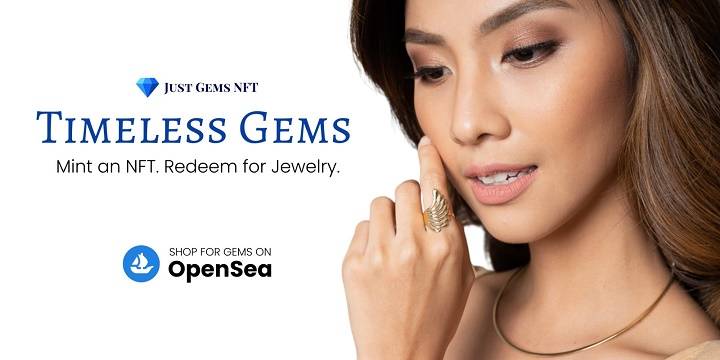 A new invention will enable luxury item and NFT collectors to purchase appreciating "gems" from anywhere in the world, authenticate ownership on the blockchain, transfer them to friends and family, and exchange them for real-world assets. Just Gems NFT is a growing collection of jewelry-backed NFTs (starting with jewelry). While keeping them hidden from NFT owners who choose to redeem their jewelry on-site, jewelry shops throughout the world can sell more jewelry products. 
A special collection of jewelry from one particular "Just Jewels" store in Makati (justjewels.com.ph) will be issued as an NFT during this project's pilot phase and sold there or on secondary marketplaces beginning with "OpenSea" (opensea.io). All jewelry NFTs are one-of-a-kind and in excellent condition. 
One of the first reputable companies to sell asset-backed NFTs in the Just Gems NFT is Just Jewels. In the future, more businesses will join, along with new categories of luxury goods besides jewelry. 
An NFT from a recognized and trusted business is backed by a real-world asset, which is a ground-breaking idea in the web3 sector (and more brands in the future). The web3, crypto, and NFT spaces have displayed bullish emotions and a global crypto market cap worth trillions of dollars over the last few years. The majority of cryptocurrency and NFT projects (such as BTC, ETH, and NFTs), all of which were reaching record highs and whose values are primarily illiquid and/or digital, have been plagued by excessive excitement and FOMO. 
With meme coins like DOGE and SHIB and the massive boost that digital art received in the NFT sector (e.g., Bored Ape Yacht Club (BAYC), Moonbirds, and more among other blue-chip NFTs that are still in operation today), there were success stories of people becoming extremely wealthy overnight. This is demonstrated by the selling of BAYC #7537 for 1024 ETH ($1.3 million) in June 2022. 
A few months ago, everything came to a grinding halt as cryptocurrency lost nearly two-thirds of its value, and NFT transactions in OpenSea decreased by 99%. 
You might be wondering why the market lost more than $3 trillion in such a short period. The simple response is that all of the hooplas were true. Without considering actual asset value, demand, and supply. 
Other problems, like the LUNA catastrophe and the "rug pull" of promising ventures, to mention a few, also led to unfavorable perceptions of cryptocurrency coins, tokens, and NFTs.
And with the crypto winter continuing for so long, it appears that consumers are finding it difficult to trust any new crypto and NFT projects because they are afraid of losing a substantial portion of their hard-earned assets once more. 
Consequently, from the ashes of overhyped and overpromised projects to the rise of asset-backed NFTs, Just Gems NFT aims to be at the forefront of utilizing high-value assets (e.g. jewelry) to back a promising tech-vehicle (NFTs) using a decentralized trustless technology (blockchain). This will lead to a new paradigm shift in asset ownership and meta-commerce. 
With the capability of purchasing, transferring, and redeeming asset-backed NFT using jewelry and physical locations, the business model structure is now complete for the first time in the history of the planet. The actual jewelry can be redeemed from the store at any time, either for personal use, as cash, or as a present for a loved one. 
Blockchain technology has long been used for web3 transactions. Asset-backed tokens and NFTs are still becoming more popular. However, industry acceptance and traction have grown rapidly. Consider making purchases of food, tickets for transportation, real estate, and many other things using web3 (blockchain) transactions. 
Aside from the jewelry that shops often display in their windows, the jewelry industry also keeps and secures jewelry that has already been purchased elsewhere in the world so that the exact value of the jewelry is reflected in the value of the NFT. Similar to the stablecoins USDT & USDC, which are backed up by USD 1:1, it is unaffected by the fluctuating token/NFT pricing that you witness. 
With this novel idea, the consumer mints the desired jewelry NFT from the website, which subsequently shows up in his or her token or NFT wallet. Once issued, the jewelry NFT immediately appears on recognized marketplaces like OpenSea's secondary market. The customer has the choice to either keep the jewelry NFT or give it to someone else. The customer will also have the choice to visit the store and redeem the jewelry in person by handing over the specific NFT in return. The retailer then burns this NFT to guarantee that it won't be kept or sold again. 
Just Gems NFT's key pillars include having a well-known brand that people can trust, an easy way to purchase, store, and redeem products and a physical location that is secure enough to house these expensive items for third-party owners. 
Even though the NFT pilot phase only allows for the purchase of the exact jewelry that the NFT represents from anywhere in the world, transfer from one person to another (via wallet), and redemption of the NFT itself, it still opens up a wide range of opportunities for insurance, loans, remittance, and other relevant services that can handle it using a more secure process (blockchain) at a much lower cost. 
Consider a scenario in which a consumer, who is a Filipino OFW working in Italy, decides to buy (mint) some jewelry with NFT and receives it in his or her digital wallet (e.g. MetaMask). He wouldn't be concerned about the NFT's value declining because he would feel good about it. Because the actual jewelry is held in a secure location somewhere in the Philippines, which is a reputable jewelry store. 
The actual jewelry can be redeemed from the store at any time and might be used for actual use, as a cash source, as a present for a loved one, or as an enduring symbol of generational wealth being built for future generations. 
This idea is indeed unique, but it's also one that has the potential to catch on in a variety of global marketplaces.
A definite sign of things to come.