VC's
Arpeggi Labs Raises $5.1M Seed Funding To Build Open-Source Music Creation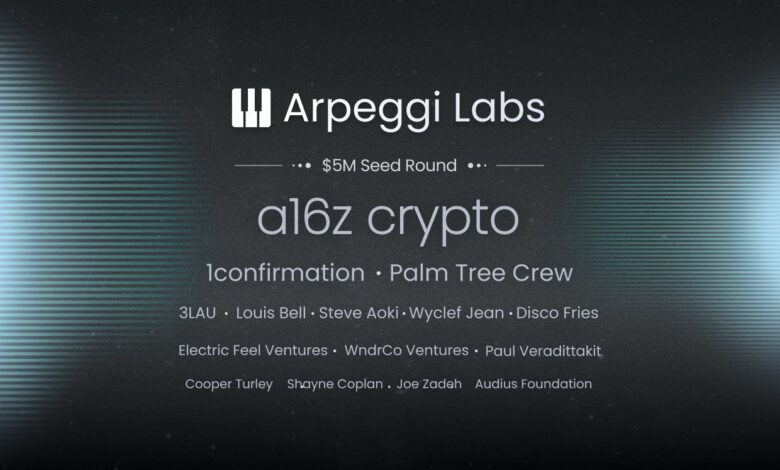 Our ability to collaborate and build on the ideas of others has never been more straightforward as the world gets more digital. Many artistic genres have experienced a creative explosion thanks to technology. Still, the outmoded music infrastructure of today prevents artists from using music in their natural creative process by preventing reuse and iteration and locating rights holders, documenting contracts, and profiting from licensing fees. With Arpeggi Labs, we set out to improve the music-making process. 
Arpeggi is creating the hub for publishing and making music on the web3. Anyone may create, post, publish, and explore sounds and tunes with Arpeggi for use in remixes and sampling by other musicians. By guaranteeing that musicians receive due credit when their work is exploited, Arpeggi shifts the paradigm of music production so that musicians can now encourage rather than forbid creative reuse of their music. Music should be multiplayer, collaborative, and connected. 
We are happy to announce that we have raised a $5.1 million seed round from a16z crypto, with contributions from 1confirmation, Palm Tree Crew, WndrCo Ventures, Steve Aoki, 3LAU, Wyclef Jean, Disco Fries, Electric Feel Ventures, Louis Bell, Joe Zadeh, the Audius Foundation, Shayne Coplan, Paul Veradittakit, and Cooper Turley to help us create the future of trustless digital collaboration. We are grateful to the a16z Cultural Leadership Fund team for facilitating connections to artists and other strategic investors along the route. We are thrilled to have such an accomplished and well-known list of partners supporting our objective. 
Steve Aoki, Wyclef Jean, Louis Bell, Electric Feel Ventures, and Disco Fries will also serve as consultants to Arpeggi in addition to their investment. 
enabling the rediscovered practice of sampling 
Collaboration, iteration, and composition in music have a long history. Every song you are familiar with today was influenced by an earlier piece influenced by earlier music. Iteration is a unique feature of music that extends beyond inspiration and into collaboration, allowing musicians to directly borrow parts of compositions by other artists to create their own. 
In this article about Arpeggi in Culture3, this procedure, also known as sampling, was well explained: "In the 1980s, selection – the practice of borrowing rhythms or melodies from pre-existing songs – gave rise to hip-hop and changed the music industry. Rapper Biz Markie and songwriter Gilbert O'Sullivan engaged in a landmark legal battle in 1991, which required musicians to obtain permission from record labels before sampling pre-existing music and frequently pay exorbitant licensing costs in return. Since then, major label artists with large production budgets have gradually come to dominate the use of musical sampling. 
Today, collaborating on music is not always straightforward. For artists to work together without the influence and support of major labels, they must: 
Build up a lot of trust before releasing unpublished works 
Sample, remix, or use sounds from other artists without permission or for money 
Track down several rights holders using opaque rights registries and request their approval. 
Obtain legal authorizations before using the work of other artists 
Music creation is forced to be solitary because it is impossible to share music and adequately credit the usage of another artist's work without worrying about theft or facing legal ramifications. Artists prefer to concentrate on creating, not determining whether their works are compliant. Here's where Arpeggi comes into play. 
Create music right now with Arpeggi. 
Arpeggi transforms the way we produce music by requiring attribution to the right source whenever a sound is utilized. In contrast, many web3 music platforms concentrate on altering how we own pieces. Arpeggi realigns creator incentives, shifting the paradigm for musicians to promote rather than discourage the reuse of their work. 
With Arpeggi, you may make any sound you hear, whether a single sample, a loop, or an entire composition. Using Arpeggi's in-browser DAW, you can switch from listening to remixing at the touch of a button. When you're ready, press mint to publish your music to the platform so others can utilize it. 
Arpeggi offers complete transparency into the musicians who contributed to a song. Relationships don't have to be built first; they can be developed from a partnership with attribution assured. When a piece succeeds on Arpeggi, the contributors of the loops or samples also flourish in an open-source and transparent manner. 
the origins of Arpeggi and its future 
Three technical co-founders of Arpeggi, brothers Evan and Kyle Dhillon, and longtime friend James Pastan, all of Atlanta, Georgia, formed the company. In 2016, Kyle started developing a programmatic hip-hop beat generator after receiving his computer science degree from Princeton. This was the beginning of Arpeggi. After Kyle spent years experimenting, Evan saw a chance to combine Kyle's knowledge of digital music with James' experience in product growth to improve the future of music production in the emerging web3 market. 
Arpeggi appreciates having a terrific team assisting in bringing our vision to life and our experience with web3, music technology, and product. But the journey we're on is just getting started. Our roadmap for products includes: 
Our free in-browser DAW needs more tools and capabilities to realize Arpeggi's unique music creative experience fully. 
Integrations with other web2 and web3 music platforms that will let you remix more music you know and love and share your music with a larger audience 
Native social features on websites make it simple to interact with the musicians you collaborate with.